Semedorato is mentioned in the book Birra nel Mondo
Taken from the book 'Birra nel Mondo' / Beer in the World, Volume IV, by Antonio Mennella-Meligrana Editore
Go to the link
Brewery, in the province of Caltanissetta, built in 2014. Although relatively small in size, it does not belong to the category of craft breweries, as it includes pasteurization in the production of beers.
Francesco Indorato, who graduated as an accountant, first worked in a consulting firm, then in a construction company as a technical and commercial consultant. In short, he had acquired sufficient entrepreneurial experience. At the same time, he had always worked for the development of the family business that, as chance would have it, produced wheat. Before or after, he had to spark it out.
He set up the company with his brother Carmelo and his nephews Toni Scalia and Calogero Fonti; he obtained financing from the European Funds and hired the very expert master brewer from Belluno, Amelio Giust, who had been living in Sommatino for a few years now with his family.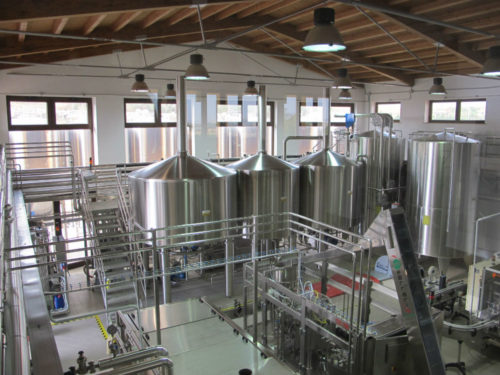 The factory has, inside, a tasting room with appetizers, and more. It is possible to organize conventions, meetings, company meetings, while all four members operate internships for beer lovers and connoisseurs.
The production "travels" now about 50 thousand hectoliters per year. In addition to Italy, beers are also sold in France, Germany, Holland, Costa Rica, Australia and the United States.
Semi-matured, premium lager, straw yellow in colour (5% g.a.). With average effervescence, a medium-grained, rich, compact, persistent white foam is produced. The nose produces pleasant aromas of malt, which are kept behind hay, corn, citrus fruits, straw, orange honey, vanilla, while the background breathes a subtle hint of herbaceous and pungent hops floral. The average body tends to be light, in an exquisitely watery consistency. Although barely perceptible, the bitterness of the climber suggests the soft gentleness of the cereal, at least up to the middle of the medium-term taste path; then a discreet balance is created, and a pleasant start is made towards a short, dry, clean, extraordinarily fresh finish. A little sweet malt seems to want to re-emerge in the elusive retro-olfactory persistence, but it doesn't find the time to do so.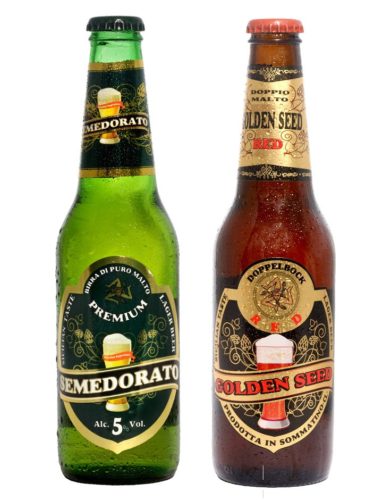 Golden Seed semedorato, amber-coloured doppelbock (7% g.a.). Carbonation is quite contained; the foam is light beige, thin, compact, creamy and sufficiently stable. The aroma opens up strongly, clean and distinct of malt, with some nuances of caramel; while, from the bottom, incipient hints of cereals, red berries, chocolate and licorice end up "knocking" vigorously. The medium body has a classic slick consistency that, however, does not hinder the flow of the drink. The taste flows under the banner of fruit, caramel, toasting, perfectly balanced by the soft bitterness of a hops herbal base. The run, more than regular, ends in a crisp and clean dryness. The aftertaste has a discreet persistence, and exhales pleasant hints of caramel with a smoky accent and wrapped in a delicate ethyl halo.
Share News

Facebook

Twitter

Google+